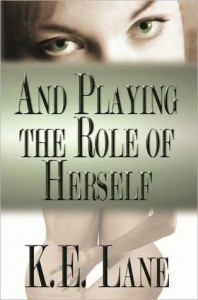 Our next book is And Playing The Role Of Herself, by K.E. Lane, as recommended to us by listener Macaruchi.
Actress Caidence Harris is living her dreams after landing a leading role among the star-studded, veteran cast of 9th Precinct, a hot new police drama shot on location in glitzy LA. Her sometimes-costar Robyn Ward is magnetic, glamorous, and devastatingly beautiful, the quintessential A-List celebrity on the fast-track to super-stardom. When the two meet on the set of 9th Precinct, Caid is instantly infatuated but settles for friendship, positive that Robyn is both unavailable and uninterested. Soon Caid sees that all is not as it appears, but can she take a chance and risk her heart when the outcome is so uncertain?
We just hope smooches are certain.
Thanks to Macaruchi for the rec!  We're always happy to see reader submitted books on our LadyLike Reading List.
Want to read before you listen?  Pick it up via the Amazon links below and we ge the tiniest amount of money that we can spend on more books.