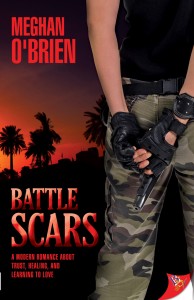 Our first book is Battle Scars, by Meghan O'Brien.
Returning Iraq war veteran Ray McKenna struggles with battle scars that can only be healed by love. Ray McKenna returns from the war in Iraq to find that she has attained unwanted celebrity status back home. As the only surviving American soldier of a well-publicized hostage crisis, she is the center of attention at a time when all she wants is solitude.

Veterinarian Dr. Carly Warner hasn't yet figured out how to open her heart to the possibility of falling in love again after the death of her longtime partner. When Ray McKenna walks into the North Coast Veterinary Clinic with Jagger, she and Carly begin a friendship that takes them both by surprise. Brought together by their shared love of dogs, Ray and Carly discover that they are both capable of moving forward, if only they are brave enough to try.
That's right:  Vet-on-vet kissing.  Get excited.  We are.
Plan on reading along? Buy a copy using the link below to support our podcast — we get the tiniest of kickbacks from Amazon when you buy via these links.