32 – The Price of Salt
[ 54:42 | 25.04 MB ]
Play Now
|
Play in Popup
|
Download
UPDATE 8/17/2015 – As you may have been able to guess, the LLBC slumbers – but the Carol movie draws near! Don't miss the trailer below, and keep an eye (ear?) upon its release to hear how the ladies feel:
When Therese meets the older, enigmatic, and beautiful Carol, her life turns upside down. When the two escape the day-to-day with a road trip, they're being chased by more than just a shadowy man. They're being chased by heteronormative expectations of womanhood in the 50s! BOY HOWDY!
Join us as we discuss Patricia Highsmith's The Price of Salt, soon to be a major motion picture Carol staring Cate Blanchett! Get in on this now and impress your pals.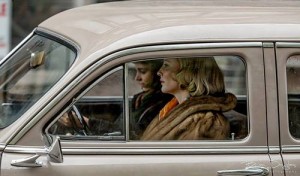 Use these links to pick it up on Amazon either in paperback in paperback or on Kindle and support our podcast while doing so.