017 – Broken Trails
[ 45:44 | 20.94 MB ]
Play Now
|
Play in Popup
|
Download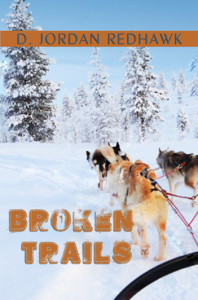 Photojournalist Lainey Hughes needs a stiff drink and a loose woman after her last assignment, but what she gets is a good dose of Scotch Fuller, dog sledder and Iditarod veteran.
When Lainey takes the assignment, she's ready to learn all about the confident yet vulnerable Scotch.  She's ready to learn about dogs, and the thrill of an endurance race.
But are they ready to learn about LOVE?
Yes.  They're ready to learn about love, y'all.
We enjoyed the heck out of this book, you guys — so much so that we barely had anything to say!  It was GREAT!  Read this book!  Really!  Do it right now!  I'll wait.
Please buy via the Amazon link below and we get a tiny amount of cash.
An ebook is available direct from the publisher.
(Thanks to talented listener Cat for the delightful fan art I mangled to turn into our banner!  See a bigger version at her tumblr.)