019 – Lady Knight
[ 1:13:17 | 33.55 MB ]
Play Now
|
Play in Popup
|
Download
This book and podcast discusses themes of sexual assault.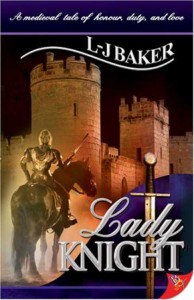 Remember us? Your long lost pals, the LadyLike Book Club? We're back to talk about Lady Knight, by L-J Baker!
Rhiannon bears the scars of battle, but also the scars of being outcast by her family. Who has ever heard of a lady knight, much less one who can defeat the unbeatable foes of the kingdom? Priestess Aveline sees the truth — that only Rhiannon has the strength to bring them victory in holy war.
Eleanor, twice widowed and winsome, is drawn to the enigmatic Rhiannon at first sight. But can they overcome the roles they play — the roles they chose and the roles thrust upon them — to find the strength in their love?
Sweet chivalry, firey flirts, and spicy nights… All of LadyLike's favorite flavors taste great together in Lady Knight!
Want to read along?  Buy using the Amazon links below and we get a tiny amount of dollars!