We sort of forgot to announce our next book, so you have no time at all to read up on Armchair Detective, by Kelli Jae Baeli!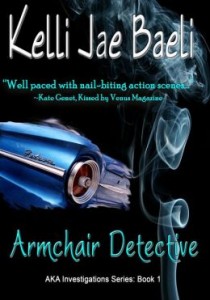 Jobeth O'Brien awakens on the floor of her kitchen, her battered face and the memory of an angry visitor tells her that she is close to something important in her investigation. In between this surveillance and delivering newspapers, her beloved '62 Falcon is the scene of middle-of-the-night romps with a lonely socialite, who gives her more than she bargained for. Her quest for the truth pits her against errant husbands, a modern-day madam with a taste for blood, a horny landlady, a vicious attack dog, and the lies she tells herself. Amid these challenges, Jobeth stakes out her prey and runs for her life, continuing the investigation that pulls her into close calls, unexpected allies, and more secrets. But Jobeth has secrets of her own, and only love can excavate them.
Planning to read along? Purchase from Amazon using this link and we get a tiny amount of dough!
Also, there's still time to enter the LadyLike Fiction Competition!