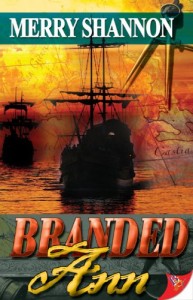 Our next book is Branded Ann, by Merry Shannon.
No pirate on the high seas is more bloodthirsty than the notorious Branded Ann, a woman with eyes like ice and a face marred by a mysterious cross-shaped scar. When she raids a merchant vessel bound for Jamaica, her only objective is to obtain the map that will lead her to a legendary treasure.

But she hadn't bargained on taking Violet, the merchant's young widow, on board her ship as a prisoner. In spite of her childlike appearance, Violet has a dark side of her own that Ann finds both infuriating and endearing.

As Branded Ann sails in search of treasure, her task is made more difficult by a stowaway child, an increasingly rebellious crew, and the treacherous seas of the Devil's Triangle; to make matters worse, she finds herself falling for her not-so-innocent but altogether charming captive. But will Violet be able to overcome the demons of her past and accept Ann's love? And will they survive the treasure hunt that has already claimed the lives of so many before them?
Spoiler:  yeah, and they make out, like a lot.  Read along and be ready for our next discussion!  Buy a copy using the links below to support our podcast — we get the tiniest of kickbacks from Amazon when you buy via these links.