I am almost too excited to say the next book on the docket is The Price of Salt, also known as Carol, by Patricia Highsmith, also known as Claire Morgan.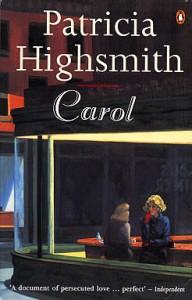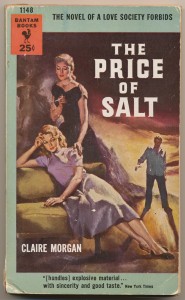 Therese is nineteen and working in a department store during the Christmas shopping season. She dates men, although not with real enthusiasm. One day a beautiful older woman comes over to her counter and buys a doll – and Carol changes her life forever.

Therese realizes she has strong feelings for Carol, but is unsure of what they represent. Carol, in the process of a bitter separation and divorce, is also quite lonely. Soon the two women begin spending a great deal of time together. When the women leave New York and travel west together, they discover the choices they've made to be together will have lasting effects on both their lives.

Considered to be the first lesbian pulp novel to break the pulp publishing industry-enforced pattern of tragic consequences for its lesbian heroines, The Price of Salt was written under the pseudonym of Claire Morgan by Patricia Highsmith – the author of Strangers on a Train and The Talented Mr. Ripley.

As one reviewer wrote in 1952, "Claire Morgan is completely natural. She has a story to tell and she tells it with an almost conversational ease. Her people are neither degenerate monsters nor fragile victims of the social order. They must—and do—pay a price for thinking, feeling and loving 'differently,' but they are courageous and true to themselves throughout."
Not to be That Person, but this book is pretty important, and you should really read this one! Use these links to pick it up on Amazon either in paperback in paperback or on Kindle and support our podcast while doing so.
This book is even now being made into a movie with Cate Blanchett and Rooney Mara, so join us in getting in on the ground floor on this one.